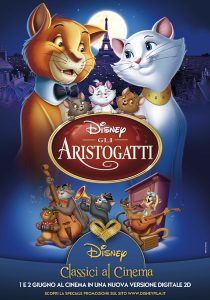 Gli Aristogatti-The Aristocats è un film del 1970 diretto da Wolfgang Reitherman ed è il 20° Classico Disney.
Il film fu l'ultimo progetto cinematografico approvato da Walt Disney e il primo prodotto dopo la sua morte.
Con un budget di 4,000,000 di dollari ne incassò circa 55,700,000 di dollari.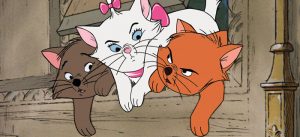 Nella versione italiana, i gattini hanno nomi differenti, per gli americani
Matisse è Toulouse
Minou è Marie
Bizet è Berlioz.
Nella versione originale, Romeo non è romano e nemmeno Italiano, ma Irlandese.Il suo nome negli Stati Uniti è Thomas O'Malley.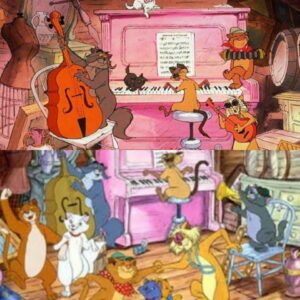 Nella canzone "Tutti quanti voglion fare Jazz-Ev'rybody Wants to Be a Cat" il gatto siamese Chinese Cat, canta una strofa, con un palese accento asiatico. Questa versione non piacque e nel film venne eliminata perché giudicata politicamente scorretta. Venne mantenuta nel DVD.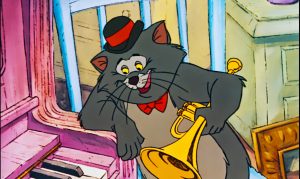 Il doppiatore originale di Scat-Cat è Scatman Crothers un importante musicista jazz.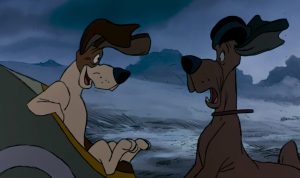 I cani Napoleone e Lafayette hanno dei richiami storici. Napoleone riguarda l'imperatore francese Bonaparte, Lafayette invece, Gilbert du Motier de La Fayette, nobile francese che partecipò alla rivoluzione americana.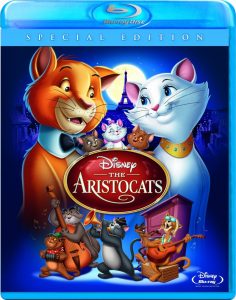 Nella versione Blu Ray fu inserita una canzone dal titolo "She never felt alone" dedicata a Madame, che però venne cancellata e sostituita da un dialogo di Duchessa.